Send Unique Wedding Invitations to Set the Stage!
Everyone wants their wedding to be memorable and special; not only for themselves but also for their guests. So what can you do that's different from the rest? In many cases the first impression your guests are going to get about your wedding will be when your unique wedding invitations shows up in their mailbox. As soon as they open your invitation they will start forming an image of your wedding in their mind. Is it going to be a typical wedding or is this going to be something that will set the standard? As you know, when a typical wedding invitation shows up in your mail box, the reaction is "oh yeah, we got (fill in the blank)'s wedding invitation in the mail today." But when a unique wedding invitation shows up it will be something like, "you have got to see (fill in the blank)'s wedding invitation! I have never seen anything like it!" And, because it's so unique, they will bring it to work the next day to show everyone the most unique wedding invitations they've seen!
What kind of wedding invitations will get such a reaction? We have found a few that we think are over the top but aren't custom made so the prices are still affordable. But you can still be sure that when these show up in the mail it will be a topic of dinner conversation and best of all will get your guests excited about going to your wedding!
This first one is the Cabana Wedding Invitation from HansonEllis. This wedding invitation is ideal for a destination wedding to a tropical location. Each invitation comes in a bamboo wood gift box, with ivory cardstock, and a cabana leaf motif. These unique wedding invitations are fully customizable. You can include the invitation itself as well as other items like an RSVP card, menu card, and a map & directions. They also sell the mailing boxes to put the bamboo box in. Plus, these unique wedding invitations are completely eco-friendly! To find out more
Unique Message in a Bottle Wedding Invitations from HansonEllis.com

This next one is our old favorite, the Message in a Bottle Invitation. Again, this invitation is a great option for destination beach weddings and is from HansonEllis. These unique glass bottles are filled with sand and real mini seashells! The custom message is on natural oil paper with cedar leaves. You can add directions to your event, an RSVP card, and more in the bottle and then you use the provided cork to cork the bottle. Each bottle is decorated with a raffia ribbon. You also have the option of getting each bottle engraved with something like you and your fiancés name and the date of your wedding! Again, they also sell corrugated mailing boxes to mail these unique wedding  invitations to your guest. If you choose you can use these unique bottles as wedding favors or to send out your thank you cards. Unique Message in a Bottle Wedding Invitations from HansonEllis.com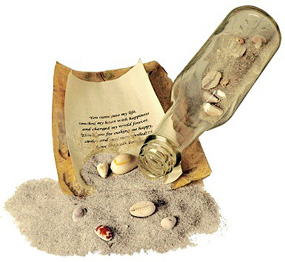 The Wedding Scroll Invitation Tube gives a little bit different look than the Message in a Bottle Invitation and is also great for destination beach weddings. HansonEllis, again, is the provider of these unique wedding invitations. As you can see they have some great options that will knock your guest's socks off! Just click this link: Unique Message in a Bottle Wedding Invitations from HansonEllis.com  I recommend you go check them out to see what else they have. Anyway, these invitations come in a glass tube which comes with a cork. Again, like the Message in a Bottle Invitation, this invitation comes with sand and tiny sea shells. The paper invitation that goes in the tube is a top quality ivory linen paper scroll with a gold cord attached. The paper can have your custom message placed on it and then is rolled up like a scroll. They also have personalized labels that can be placed on the outside of the tube. Additionally, they have custom RSVP cards that can be attached. If you are interested in finding out more about this invitation just click the link above and search their site for "tube".  It will be the only result.
If you think the last invitations were a little to "3-dimensional," you will probably like these very unique, but can be mailed in an envelope, Passport wedding invitations from eInvite. These unique wedding invitations actually have the look and feel of a real passport, right down to the visa stamps and space for the Passport Bearer to sign their names. The cover is actually made using silver offset printing on a dark blue 90lb paper booklet cover. A really unique and creative part of this wedding invitation is the perforated tear-out response card and silver response envelope. Plus, to keep a consistent theme to the end, they also offer matching thank you cards that you can send after your wedding. If you are interested in finding out more about this invitation just click one of the images below.
Finally, we will end with one more unique item but this one is a save the date. Many people send out save the dates at least a few months before the invitations go out so their guests can start planning and making arrangements. This is even more critical for destination weddings where your guests will have to plan and save for travel. These unique save the date magnets will definitely be a great precursor for and of the unique wedding invitations above. They will definitely know that you are planning an amazing event plus it will be a great decoration for their refrigerator that will serve as a constant reminder for your wedding.
This Save the Date Magnet Boat is made of real wood, has cloth sails, and genuine rope rigging. The hull is designed in a nautical wood finish, trimmed in bright white and sailor blue. Each sailboat comes with two magnets mounted on the back so the favor can be placed securely on any metal surface. You can have your names and wedding date inscribed on the front as a save the date. If you are interested in finding out more about this invitation click on the picture.
Of course if you are looking for some more unique wedding invitations, but also very top of the line from the most popular designers, you can check out our large supply in our wedding invitation shop.